Written by Gottfried Hofmann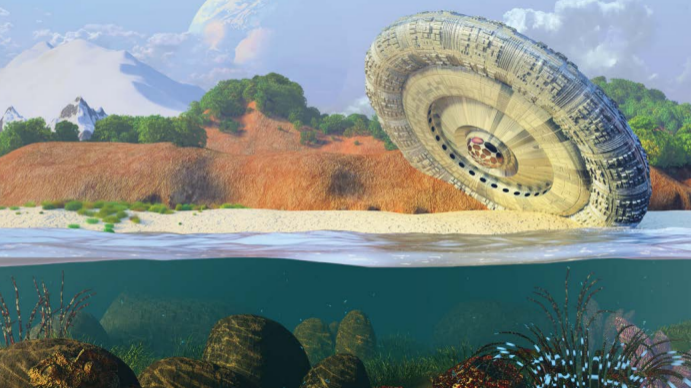 An in-depth review of the eBook edition of "Blender 2.6 Cycles Materials And Textures Cookbook" which is written by Enrico Valenza and published by Packt Publishing.
Recently I got the opportunity to review the book "Blender 2.6 Cycles Materials And Textures Cookbook" written by Enrico Valenza and published by Packt Publishing. The author is a freelance illustrator and 3D artist from Italy with more than 10 years of experience in Blender. He is also a Blender Foundation Certified Trainer and was lead artist for Big Buck Bunny!
The publisher is very active in Open Source and there are more than 10 titles covering Blender available at the times of writing this review. Packt is offering both printed and ebook versions of each book and the source files are available as a separate and free download. One thing that is special about Packt is that they are donating up to 5% of each book sale to the Open Source project the book is covering. So if you buy "Blender 2.6 Cycles Materials And Textures Cookbook", the Blender Foundation is actually getting a bit of your money as well.
The target audience of the book are Blender users who are already familiar with the interface, modeling etc. who want to dive into materials and shading in Cycles. In short: Intermediate Blender users. But the contents also cover a few rather complex examples where even advanced Blender users will learn something new while the first chapter is specifically for newbies covering the very basics of materials in Cycles.
The book is designed as a "cookbook", which you can imagine as a collection of short tutorials related with each other. The 'tutorials' in a Packt cookbook are called 'recipes' and this book offers more than 40 of them.
Each recipe consists of a getting ready section where the prerequisites for the recipe are described. What follows is an image of the final results. Next is the actual recipe, which is a detailed step-by-step instruction with screenshots of the more complicated parts. Each recipe is concluded by a section that quickly explains the theory behind this. So the explanation is given after the implementation and one should also note that the implementation often spans several pages followed by just a few lines of explanation. So the book is mainly for those who want to learn by doing or who need results fast.
Since the book comes with demo whiles is also consists of a small material library which of course is worth money in itself.
Concerning material libraries – the book features an excellent chapter about managing materials in Cycles which covers naming conventions, node groups, linking and appending and a good tip about creating a separate scene for your material library and experiments. This chapter is actually reflected in chapter 4 where the author first sets up a general group node for metal materials in Cycles and then shows two examples that make use of the group.
The recipes in the book also make heavy use of frame nodes and encourage the reader to make use of frame nodes themselves. It's not just showing how the materials are created but also how to organize and present them in a clear fashion which improves readability and is crucial if the reader wants to start building his own material library.
The author has done a very good job at creating a variety of examples for materials that can be actually useful in day-to-day work. Sometimes the "How it works"-sections are very short, which means that the reader gets little information about the features and techniques used in the book.
There are two further drawback which are not the fault of the author:
#1 – I'm reviewing the eBook-version here and the screenshots and pictures are using a heavy and lossy compression which makes many values and texts in the screenshots simply unreadable. The companion files for the book come with all the screenshots and images in a lesser compressed version. It suffers from the same problem but to a lesser extend. This is a decision by Packt and de-values the book quiet a lot. The PDF format features lossless compression and Packt should use that for screenshots.
#2 – The book is outdated. It was released in June 2013 and in August 2013 Blender 2.68 came out which changed the materials system of Cycles to some extent. I did not check all examples but more than 10 of them have changed quite a lot in look. A new user might get confused when he tries the examples and has no chance to achieve the same result as in the book. Of course that is just bad luck since neither the author nor Packt could forsee the changes. But right now is the best time for Packt Publishing to release a second edition of the book. Version 2.69 of Blender will be a long-term release which will get updates for way longer than the normal version of Blender. Such a release is perfect for books because it won't be outdated the day the book gets published.
Here are a few examples of the problem, on the left a render in Blender 2.66a and on the right in Blender 2.68a. Afterwards I will present a solution to one of changes for those who have already bought the book and want to use it with current versions of Blender:
In order to fix the bump values in Blender 2.68 of above, one simply has to change the strength value in the bump node to a higher absolute amount. Also note that negative values are no longer supported by the node, so use a positive value in that case and check the 'invert' box:
Conclusion: This is actually a really good book and the price is right. When you are still using version 2.66 or 2.67 of Blender everything is fine. Users of version 2.68 or later should either wait until a second edition of the book has been released or first work through the book with Blender 2.66 and then try to figure out how to fix the materials for Blender 2.68 or later.
Related Items: